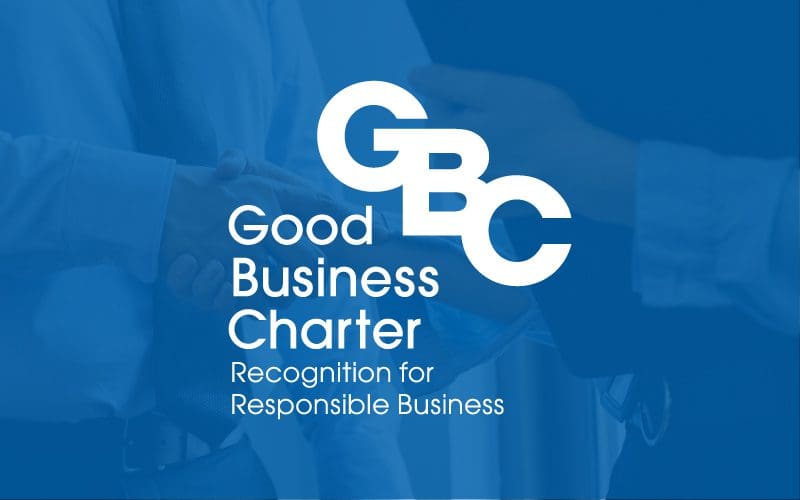 Responsible business practices recognised as LMI receive GBC accreditation
Leadership Management International (UK) has become the latest organisation to receive an accreditation from the Good Business Charter (GBC), which demonstrates responsible business practices across ten key areas.
At a time when people care more about who they work for and who they buy from, the GBC accreditation recognises those organisations that prioritise and care for their employees, environment, customers and suppliers.
Some of the key components of the GBC are fairer hours and contracts, employee wellbeing, diversity and inclusion, prompt payment and commitment to customers. An organisation must satisfy all ten requirements in order for their application to be successful.
As a client-centric business, LMI-UK has built a strong reputation for delivering bespoke training and development programmes to aspiring leaders across all sectors.
By securing the accreditation, the organisation has further strengthened its position as an industry leader, that is committed to ensuring clients receive the best possible support from experienced coaches across the UK.
Nick Howes, Managing Director at LMI-UK, commented:
"We're very pleased to have been awarded the accreditation, which stands testament to the hard work we have put into supporting individuals in their personal and professional development.
"Despite the ongoing pandemic, we have adapted to the challenges and moved our operations online, so that clients can receive much-needed support without having to meet in person.
"As a business, our clients and employees are our top priority, so to receive an accreditation that recognises this is a great achievement, as it shows future clients that we can be trusted to deliver a high-quality service that meets their unique needs and requirements.
"Of course, none of this would be possible if it wasn't for the experienced coaches we have working for LMI-UK, who are committed to helping individuals realise their full potential, no matter what obstacles stand in the way.
"I'm very thankful to the GBC for recognising this hard work and I'm positive there will be a lot more achievements to celebrate throughout 2021 and beyond."
Chairman of the GBC board, Simon Fox, commented:
"The Good Business Charter brings together ten standards, most of which already exist, but in separate places.
"We have brought them together to give a coherent overall position for businesses to aspire to. We believe that the GBC has enormous potential to change business practice for good and we hope that because of its simplicity and cost effectiveness, it will quickly gain support.
"Having demonstrated responsible business processes, the decision to award LMI-UK with the accreditation was an easy one to make, and we're very pleased to have them as an official member of the Charter."