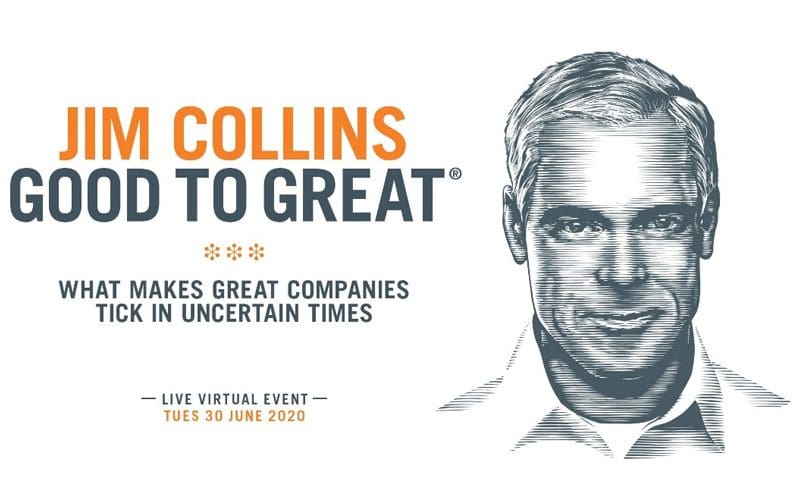 Jim Collins – Live Event 30th June
LMI UK is delighted to invite you to Jim Collins – Good To Great, a global live virtual event, streamed live from Colorado.
Delivered via a new bespoke, fully immersive HD platform; best-selling author and globally revered thought leader, Jim Collins will present a powerful and exclusive live virtual event; Good To Great - What Makes Great Companies Tick In Uncertain Times.
"We cannot predict the future, but we can create it."
Jim Collins
The greatest thought leader of our time, Jim Collins will distil 30 years of research to equip you with his time-tested, field-proven framework to thrive in times of uncertainty – like now!
We have secured a special rate for our network. Click below to find out more.
Why Jim?
Named one of the "100 Greatest Living Business Minds" (Forbes), Jim has spent 30 years researching over 1400 companies to define what makes great companies tick. One of only five authors to have sold over 10 million books, Jim's concepts have revolutionised thousands of businesses globally.
Why now?
Responding to these highly volatile and unpredictable times, Jim will deep-dive into his co-authored best-seller Great by Choice which answers the question "Why do some companies thrive in uncertainty, even chaos, and others do not?"
Specifically created for business leaders and their teams, this rare opportunity provides unprecedented access to Jim Collins for 2.5 hours of deep learning, allowing time for Q & A on how Jim's concepts apply in these current challenging times.
Revolutionising virtual events
Your team and clients will enter an immersive, fully interactive experience with high definition, studio quality broadcast. From the lobby to the resource centre and everything in between, this event will capture your imagination.
Why should you attend and bring your team?
Through the doors to the mainstage, Jim Collins will present from a live studio, providing you the opportunity to:
Align your leadership team with the greatest thought leader of our time

70 minute live keynote from Jim Collins
60 minutes live Q & A with Jim Collins

Uncover the leadership behaviours needed in a world overwhelmed by turbulence, disruption, uncertainty and dramatic change
Support and mentor your leadership team with strategic thought from one of the greatest thought leaders of our time
Learn the disciplines required to deal with turmoil and change in your environment
Keen to share with your team/clients? Download a quick overview below.
An unmissable opportunity for CEOs, business leaders and lifelong students of Jim's work. Be part of this incredibly rare opportunity to learn directly from Jim Collins.
Jim Collins – Good To Great
Tuesday 30th June 2020
Workshop fee - £195 | Our network - £145