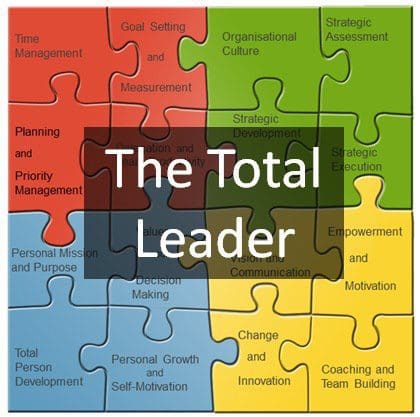 Personal Productivity
Personal Productivity
Strategic Leadership
Strategic Leadership
Personal Leadership
Personal Leadership
Motivational Leadership
Motivational Leadership
The LMI Foundations of Success workshop introduces the concepts and practical tools used to help countless individuals within thousands of organisations, of all sizes and complexity in both the public and private sector, realise more of their true potential.
All of our work stems from our Total Leader concept and this short, intensive workshop introduces the concept whilst delivering practical advice and support to help you:
establish an effective goal setting system to achieve sustained, consistent success
manage your workload and prioritise effectively to achieve more valuable activities each day
create more time and energy for the crucial strategic work that's often side-lined by apparently more urgent crises
improve internal & external communication
The first person from any organisation can attend the Foundations of Success workshop for just £99 + vat
Whether your organisation is 1 person or 10,000 people, save £290 by taking advantage of our enormous first person discount.
With so much training, covering every facet of personal and commercial development on offer, how do you know what is effective and will deliver long-term results?
Most people have been on a training course of some description and have the workbooks or manuals gathering dust on their shelves to prove it. But after that initial spike of post-course enthusiasm, the back-at-work routine soon kicks in, with each new email causing those new ideas and changes in attitude to be quickly forgotten.
At LMI we understand the real-world context of the training we provide. We understand how people need to learn to be able to make the long-term changes that deliver real results; permanently.
Our programmes are shaped by more than 50 years of experience working with countless individuals in tens of thousands of organisations across six continents. This ensures everything we do will make a lasting impact to the benefit of the individual and the organisation for which they work.
Today, it's all about results…
Investing precious time and money in training means it has to deliver tangible, positive impacts on the bottom-line of the organisation, if it is to be considered a success.
These are just some of the words that our clients, in the private and public sector have used to describe the changes they have enjoyed following their participation in one of our many 'Foundations of Success' workshops.
Although every individual will take away something different from their time working with us and use different words to describe their experience, the common theme is gain; everybody gains something useful.
Whether they are a leader, a manager, a business owner or a sales professional, the workshop pays back the time spent many times over and renews the individual's enthusiasm for change. Here are a few short comments from recent participants in the workshop, but we have plenty more and you only have to ask if you'd like to read them.
This is no exercise in ivory-tower management theory: ideas that sound great in a training room but have no value back in the real world of getting important work done. If you're interested in making practical steps forward in how you manage yourself and your interaction with others – sometimes it's the 1% changes that make the difference – this is for you!
The success workshop is all about sharing great ideas and putting practical tools in your hands that will help you and your team be more effective and productive in your work. We absolutely love that this is exactly the feedback we keep on getting from those who attend!
Our workshop is based on practical real-world experiences, not theoretical ideal-world solutions.
This workshop will help you take practical steps to manage yourself and your interaction with others; it will show you the advantage of the slight edge. Real life is about doing 100 things 1% better, rather than one thing 100% better – to paraphrase England's Rugby World Cup winning coach Sir Clive Woodward.
The Foundations of Success workshop is about sharing great ideas and making available practical tools that will help you and your team be more effective and productive in your work.
Join one of our workshops, offered across the country, to learn a little more about us and whole lot more about you and your abilities. You will gains in the following key areas:
CONVINCED?
Then enrol right now and take advantage of our first-time client offer – Pay just £99 for the first participant and save £290.
You'll be wanting to know what's actually involved when you take the plunge and say YES to getting in on the action. Well here's the lowdown:
The cost of £389 + Vat represents fantastic value – we offer a full money-back guarantee on that fee i.e. if anyone attends and feels (for whatever reason) that it's not been a fantastic investment of their time and money, we'll refund their entire fee. However, we know that the power of what is shared in this workshop must be experienced first-hand; and that's why we're making this sensational offer.
So what actually goes on at one of these workshops?
Here's a 146 second insight (real people & everything!) we recorded recently.
Dates, venues and booking
"I found the ideas shared, as well as the practical planning tools supplied, to be of immense value. My time has become significantly more organised and productive and I can see great value in enrolling others within our company on this same training."
- Cathy Buckley (HR Manager, Alpine Electronics)
"A practical toolkit to manage time effectively… some great tips on practical goal setting and several good ideas and principals to put into practice straight away. Would definitely recommend this workshop to anyone who's wondering where time disappears to and how to achieve more in their life."
– Ian O'Donnell MBE (Director, Real Point Group)
Dates, venues and booking
We hold the Foundations of Success Workshop in a variety of easy-to-reach venues across London, the South and the Midlands. Choose from the list below the best upcoming date for you to attend. Additional dates and venues are regularly updated. Get in touch if you would like to discuss your specific requirements using the contact details at the foot of this page.